Description
An easy to build electronic dice kit.
DISCONTINUED PRODUCT
Press the button LED's run random numbers, release the LED the random number slow down and finally stop at the result. After 15 seconds the electronic dice kit turns off to preserve the battery.
The Electronic Dice Kit Runs from a single button battery (included) and can be cascaded to other dice kits enabling the building of double, triple and quad dice with ease.
Ideal to be used as soldering practice for novice solderers in schools or groups or it could be used as a part of a creative game project or to replace lost die in board games.
The battery is easily replaced/sourced as it is available in most UK news agents or electronic shops.
For longer runs or for multiple use, the battery can be replaced with a 3-6v power supply.
This kit makes a great tie in to teaching statistics, programming and electronics in schools, groups or clubs. Build a number of kits in to a large random number generator.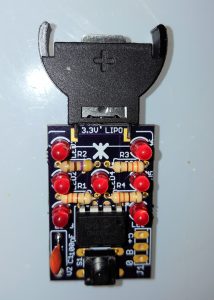 PLEASE NOTE: The battery is NOT included if shipping outside of the UK mainland. This Kit Contains small parts and is therefore not suitable for children under 5 years old.