Description
We are no longer selling this item as a unique kit. BUT…
The Solenoid Engine Single uP is a second generation desktop standing engine with an acrylic or MDF framework, flywheel and solenoid piston. This Solenoid Engine is designed to be externally controlled from a Raspberry PI or Micro:bit. Piston timing comes from an slotted-opto sensor with a separate adjustable cam which is sent to the external computer  which can then do the speed regulation and timing.
Code
Code samples are available on the resources page. These including code in C, Python and Micro Python. The engine is not limited to the Raspberry PI or Micro:BIT and can be run from any computer with a spare IO port on a GPIO or similar.
Power and operation
It is capable of running from 5-18V supply which is isolated from the host computer.  Piston timing and con-rod length are all adjustable and there is provision for adding 8 x M5 nuts and bolts around the flywheel for added weight. An LED indicates the solenoid output.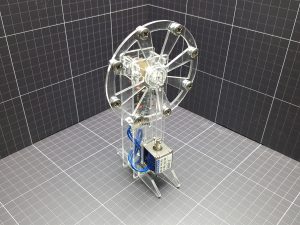 What you get
The kit, and comprises PCB,  Acrylic or MDF Hardware and a Solenoid. It is available with the electronics PCB as a kit or the PCB built and tested. It makes a great desk toy, or a teaching aid for any piston based engine class, in conjunction with coding practice and learning about engine control systems.
Development
This is the second version of the solenoid engine single uP. There have been changes to make the construction and operation easier. These include: Separate cam / slotted opto to give a more reliable pulse to the electronics and easier modification of the timing. The axle is now rotating, rather than fixed. This gives access to the motors output for use with other equipment. There is now access slots to ease the setting of the solenoid position. No foil on the flywheel which improves the look of the engine.
Please note:  This Kit Contains small parts and is therefore not suitable for children under 5 years old. This Kit does not include a Micro:bit or Raspberry PI and will not run without one or a compatible SBC.