Description
A digital clock kit that has a OLED display of the time based on the Cypher of the Monk's numeral system.
https://en.wikipedia.org/wiki/The_Ciphers_of_the_Monks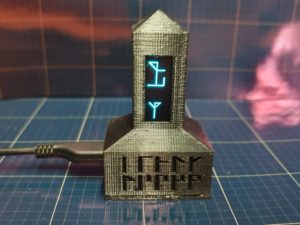 The hours and minutes are displayed on a large cypher at the top of the clock and the seconds on a smaller cypher lower down.
Reading the clock is not automatically obvious, well that IS the point, but with practice, it's quite simple. Reading the COTM clock
The Cypher of the Monk's Clock comes with the electronics fully built and tested, and you can either order a 3D printed case, or STL files are provided so you can 3D print your own.
The Cypher of the Monk's Clock is based on an ESP8266 processor and has a 0.96″ 128×32 OLED display.
The time is taken from a local WiFi connection, so 2.4G WiFi must be available for this to work. Configuration is done via the clocks own built in WiFi AP and web page.
Time zones from GMT-11 to GMT+12 are supported (zones with a non integer GMT offset are not supported) Daylight savings times can also automatically be taken into account.
The clock comes with a populated, soldered and tested PCB, a programmed ESP8266, an OLED display with a flexible cable.
Note: The WiFi password is stored onto the ESP8266 and is not hard to extract if you have access to the  processor. There is a "setup" link that will wipe your credentials if you want to pass on or scrap this device. See the resource section for details.
Only supports integer time zones GMT-11 to GMT+12